When installing your new gutter, the first thing you need to do is measure everything out for your gutter brackets. You are probably used to doing this with your ruler, pencil and protractor, so that you have clear lines to guide you. Only once this job is done can you get started with the actual cutting. But there's a faster way!
With our gutter model from Angle.design, you can do all of the milling for your gutter brackets more easily, more quickly and much more precisely. Click the main rail and the guide rail together and mount the longitudinal stop at the other end of the main rail. Now you're ready to get going!
Gutter bracket milling cutter for both left and right-handed use
When making the first cut in the gable, turn the rail over and mill a groove for the first gutter bracket. And this is where things get clever. Now all you have to do is insert your longitudinal stop into the first groove, set your guiderail up along the measurement that you need – and then start milling.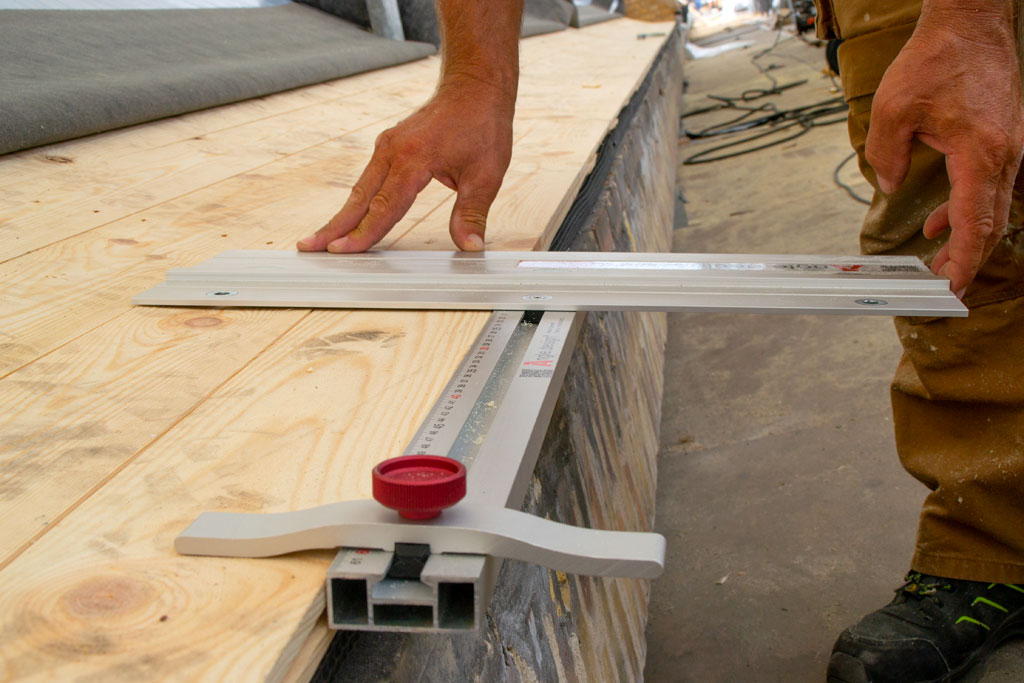 For each new groove, simply place your longitudinal stop into the last groove and mill the next one. If you find it easier to work with the cutter in your left hand, simply hold the machine from the other side, turn the guide rail around and start milling!
And just like that you will be able to quickly mill out all of your grooves and set the gutter brackets in place, ensuring that they sit just as they should and at exactly the right angle. If you need more than 60 cm between your grooves, simply attach the longer main rail to the guide rail. This gives you up to 120 cm to play around with between your grooves.
The gutter model ensures accurate angles every time
Gone are the days of measuring out angles between 15 and 15cm with lines on both sides. The milling model for gutter brackets helps you do the job much more simply and easily. And you won't need to worry about crooked angles either – the Angle.design unit keeps your machine steady and ensures your angles remain accurate.
With a gutter bracket milling cutter from Angle.design, you will be able to quickly, easily and accurately mill out grooves for your gutter brackets. And if you are working with large roof surfaces, you can cut down your working time by as much as 70%. This will help you achieve more in each working day or allow you to finish in good time and leave work early.
If you aren't currently working on a larger roofing project, you can also use the set to cut smaller boards with your circular saw. And you can even combine the gutter bracket model with the angle cutter set, allowing you to easily and accurately cut rafters, cladding panels and aluminum plates to length.
Finish milling your grooves more quickly
Do you also dream about getting your gutter bracket work done more quickly while still ensuring perfect angles? Then order your gutter bracket milling cutter from Angle.design today!